On the 6th of November 2004, Force Aérienne de la Côte d'Ivoire (FACI) Su-25s carried out an attack on a French peacekeepers camp in Bouaké. This provocation led to the destruction of the FACI.
The trouble started on the 19th of September 2002, when Côte d'Ivoire found itself in a tight situation after the rebel umbrella organization Forces Nouvelles de Côte d'Ivoire (FNCI) captured Bouaké airbase, which was home to six non-operational Alpha Jets. The FNCI threatened to reactivate the Alpha Jets to use them against the government of Laurent Gbagbo, which in turn had nothing to counter this threat. Therefore it was decided to re-equip the FACI.
Belarus and Bulgaria were quick to help out, which resulted in the delivery of four Su-25s, one Mi-8 and two Mi-24s from Belarus and two MiG-23s, two Mi-8s and two Mi-24s from Bulgaria. Botswana delivered (via Malta) two BAC Strikemasters, Romania delivered four IAR-330s and Israel delivered two Aerostar UAVs. Transport was done by an An-12 operated by Ukrainians. Some sources even mention a third Mi-24 delivered by Belarus, which was used as a source for spares.
[1]
[2]
The MiG-23MLDs never entered service after the FACI found out it could also obtain Su-25s from Belarus. The Bulgarian company wasn't interested in returning the MiG-23s and they eventually ended up in Togo after being unloaded by the Il-76 carrying them. Due Togo not being interested in operating fighter aircraft, they remain
stored
at Lomé-Toikan airport ever since.
Su-25 (02) in its hangar at Abidjan Houphouët-Boigny.
As with the other Su-25 single seater, the plane never became operational.
Two Su-25 single seaters and two Su-25UB dual seaters were delivered in 2002. They came directly from Belarusian stocks and were thus slightly different from the specifically made for export Su-25Ks. The single seaters were serialed 02 and 03 while the dual seaters (first seen in early 2003) received serials 20 and 21. The latter was equipped with extra armour plates under the rear seat. Work on the two single seaters progressed slowly and the planes never reached operational status. All four featured a sharkmouth as seen on every FACI combat plane or helicopter.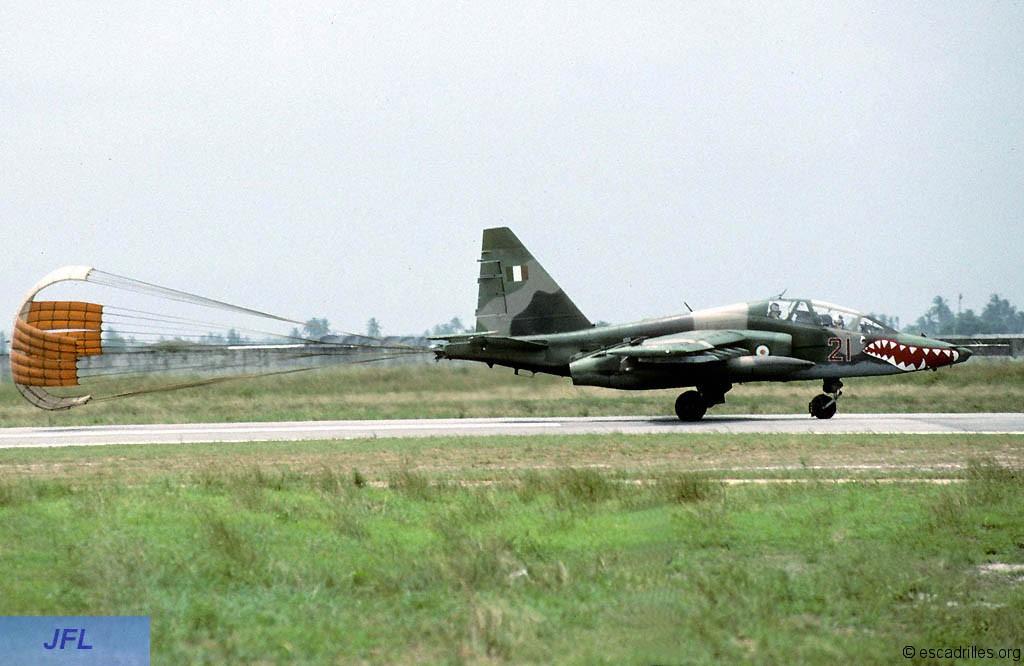 Su-25UB (21) deploying its drogue parachute while landing at
Abidjan Houphouët-Boigny
The Su-25s were initially flown by and maintained by Belarusians and Ukrainians while Ivorian pilots and technicians underwent training in Ukraine. Since some of the Ivorian pilots appeared to be quite old, it is assumed they were ex-FACI Alpha Jet pilots. After the Ivorians came back, the Su-25UBs were usually flown by one Belarusian in the front seat and one Ivorian pilot in the back seat. Activities of the foreign personnel and Su-25s were closely monitored by the French, which shared a base with the Ivorians at Yamoussoukro. For more on the French activities, please check out the video seen below (In French).
The Su-25s first saw action on the 4th of November 2004, when they bombed FNCI positions in the North. Apart from destroying FNCI munition depots and killing key rebel figures, the air attacks left a high number of civilian casualties.
[3]
Such sorties continued until the 6th of November, when two FACI Su-25UBs attacked a French peacekeepers camp in Bouaké while being flown by Belarusian and Ivorians pilots. The attack left nine French soldiers and one American missionary killed, and many more injured.
Footage of the attacking FACI Su-25s can be seen below:
In retaliation, the French attacked the two Su-25UBs after they landed on Yamoussoukro airbase while in the progress of being rearmed, killing one FACI technician in the progress. Su-25UB (20) had it's canopy blown off while Su-25UB (21) saw its nose being ripped off. The non-operational single seaters were captured at Abidjan Houphouët-Boigny and disabled for future use.
The associated weapons left at Yamoussoukro airbase were subsequently stored in the former residence of the late first president of Côte d'Ivoire, Félix Houphouët-Boigny in Yamoussoukro. The weapons remained stored there until discovery by forces loyal to the current president Alassane Ouattara in April, 2011.
In late 2004, the two damaged Su-25UBs were brought to Abidjan Houphouët-Boigny in an effort to repair them

for

once again, the revitalisation of the FACI. Even though progress was made, the project wasn't finished and the Su-25s remained non-operational.

On top of that, the imposed arms embargo on Côte d'Ivoire currently forbids the reactivation of the four Su-25s.

''Decides, for a period ending on 30 April 2014, that all States shall take the necessary measures to prevent the direct or indirect supply, sale or transfer to Côte d'Ivoire, from their territories or by their nationals, or using their flag vessels or aircraft, of arms and any related materiel, whether or not originating in their territories

;

'' 25-4-2013 [4]

The embargo has been annually extended since 2005 and it is unknown when the UN's policy will change. When lifted, will Côte d'Ivoire still be interested in operating the four Su-25s?

The Su-25s, along with two Mi-24Vs remain stored at Abidjan Houphouët-Boigny. For now, the sharks won't bite again.
Special thanks to
ACIG
.